Wholetones Reviews – Looking for Something To Shed Some Light?
Searching For Honest Wholetones Reviews?
By now you've heard about Wholetones and Michael S Tyrrell is a name you've encountered. You've maybe read some information, your interest was piqued and now you are considering whether to invest in this product?
Miraculous?
Perhaps you have heard about miraculous healing, or simply that it can help alleviate stress. Have you been searching for wholetones reviews in the hopes to shed some light on this notion of 'the healing frequency music project', find guidance on whether it works or not and wondering if it is right for you?
You Decide For Yourself
This is my comprehensive review where I give insight into how the concept is supposed to work, what you get for your money, and will discuss both the benefits and drawbacks of Wholetones, so that you may come to your own conclusions about whether or not to purchase one of the packages offered. It all comes down to personal choice and if it fits what you are looking for.
Product Name: Wholetones
Creator: Michael S Tyrrell
Rating: 4.5 out of 5.
Recommended: Highly Recommended.
Price: $49.00, $99.00 or $149.00, depending on which package you purchase.
How Does It Work?
If you haven't already, read the following article which gives information about how it works. If you already know what you need to and are looking for information on whether it works or not, and what people think about it, please read on.
Let's look at individual songs. The information below gives the frequency and alleged benefits of each piece of music, what aspects of your life you may be able to work on, and includes both mental and physical effects.
The 7 Songs And What Benefits Are They Purported To Give
Song 1 – 396Hz – Open Door
Mental – Opens you to up to receive healing. Works on fear, guilt and shame
Physical – Liver, Brain and Kidney
Song 2 – 417Hz – Desert Sojourn
Mental – Increase energy, creativity and productivity, reduce procrastination, sluggishness, lethargy and negativity, help with addiction.
Physical – Digestion, stomach issues, headaches, lower back pain, metabolism
Song 3 – 444Hz – The Key Of David
Mental – Soothing, brings peace in the middle of chaos, feelings of overwhelm and anxiousness, thought to have been played to King Saul to ease his Depression.
Physical – No information provided for 444Hz.
Song 4 – 528Hz – Transformation
Mental – Relaxation, stress, sound peaceful sleep
Physical – Hormonal imbalances, muscle tension, circulation and lymphatics
Song 5 – 639Hz – The Bridge
Mental – Fosters peace and forgiveness in relationships
Physical – Endocrine system, gall bladder, adrenal issues.
Song 6 – 741Hz – Great Awakening
Mental – Awareness of spirit, deep spiritual and emotional healing.
Physical – Cleansing of immune system, bacterial infections, circulatory system, heart
Song 7 – 852Hz – The Majestic
Mental – Purely spiritual, worship, love for humankind.
Therefore, should you be suffering any of the above maladies, there may be an answer for you in Wholetones.
Product Merits
You can listen to samples of each piece of music prior to purchase
Inexpensive, affordable in one easy payment
365 day 100% money back guarantee
Over 2½ hours of back to back music, play on repeat if desired through the night or on long car trips
Frequencies embedded as undertones, pleasant music as overtones, no distractions
No preparation requirements before, during or after use
No meditation needed
No exercises or motivational pep talks, just set and play
No need to give attention, same benefit to play in background
No need for loud volume, any volume will work, due to 'feeling' the tones.
With or without headphones
Immediate digital access in all packages
Physical copies available
Added bonus – Wholetones book for more information, interesting reading
Ease of usage – use anywhere, anytime, even in your sleep.
Potential physical and emotional healing
Relaxing, brings peace, soothing to the soul
Has scientific basis for frequency claims
Can play all songs or target an area of healing you desire
Chroma option, added beneficial effect of colour psychology/therapy
People who are deaf feel the tones, vibrations, therefore don't need to hear the music. Tyrrell states that the tones works on a cellular level.
Teaches musicians to tune to 444Hz instead of the usual and apparently discordant 440Hz
Useful to: create a calm, peaceful atmosphere, pregnancy, birthing room, baby's room, sleeping, child care centers, meetings, mental health field, waiting rooms, spas, massage, reiki and other alternative health practices and therapies, studying, concentrating, writing, driving, nature walking, jogging, fighting kids, hospital, church, work, bedside of a sick person, elevator or store music. During any therapeutic activity, colouring in, painting or other forms of art, class rooms.
Music does not become boring over time, or tiring to your ears
Pets love it! My sister's cat promptly feel asleep next to me when I played it at her house.
There are more options to buy now, Christmas tunes, children's lullabies, Sleep, and can purchase a handy "Wholetones To Go" portable speaker with songs already loaded
Product Drawbacks
Requires a power source, battery or plug in.
Claims to spontaneous healing seem far-fetched or here-say, not easy to prove. Such claims are purportedly documented but it may take a leap of faith for some people to accept this as absolute truth.
No information given about the source of the frequencies that corresponds with individual parts of the body
Religious hype, not always attractive to everyone in marketing, may be off putting to some
The Million Dollar Question – Does It Work?
I am a caregiver and will freely admit that life can get quite stressful at times. I came across Wholetones quite by accident through a conversation I had with a couple of friends, but I never really looked into it further at the time, even though I could have used it during such stressful times.
It took two more encounters with it before I realised that perhaps I should find out what they were talking about. I looked at it from the perspective of a possible stress solution and hopefully being able to sleep a bit better. I have been using Wholetones ever since then as I found they do work quite well for stress.
Religious?
For my own part, I'm not one to be taken in by references to God, nor am I likely to buy something that is promoted as such. However, having already an understanding of how frequencies in general can work within our bodies to create harmony and eventual healing, I decided to overlook the religious references and buy it anyway.
Healing?
I can't speak for the physical healing aspect, because I am using the music to ease stress, but I am not discounting the possibilities. For me personally, Wholetones has helped me find peace in a world (home) of chaos, which I'm sure in turn will lead to better overall health and I'm sure has positively impacted my high blood pressure by easing my stress. I don't expect healing overnight, however I do expect healing on some level.
Tool For Stress?
Absolutely! Stress has been a big factor for me for many years and there are only a few things that have had quite such a dramatic effect.This is just one of a variety of tools I utilise to bring about personal change, and I believe that a combination of several options will do the trick. Wholetones achieves a state of relaxation for me very quickly, which is a blessing for me.
My daughter suffers mental health issues and extreme anxiety and has recently started listening to it. She may not realise it yet, but I have noticed that our house is a little more on the calm side, especially in the mornings, when once upon a time you had to tiptoe around her.
Automatic?
An interesting effect is that I can sometimes hear the music in my head and the tones in things around me even when not listening to it. It's a bit like being able to automatically move into the relaxed state people can find with meditation, which is invaluable to me because of my busy schedule.
I also use it when writing my blogs, I feel calmer and can concentrate better, so I get more work done than prior to using it. It helps remove distractions for me.
What Do You Receive When You Purchase Wholetones?
There are 3 packages on offer with an option to add to them, each containing Michael Tyrrell's 7 music pieces, his book and other extra items.
Package 1- Digital Download Set

Instant access to digital download
142 page downloadable PDF Book "Wholetones – The Sound Of Healing" by Michael S Tyrrell
All 7 22 minute 22 seconds mp3 songs. That's 155.54 minutes or 2½ hours thereabouts of playing this soothing, healing music.
Price – $49.00 (Save $19.97 at the moment on the usual price of $68.97)
Package 2 – Digital Download + Physical Set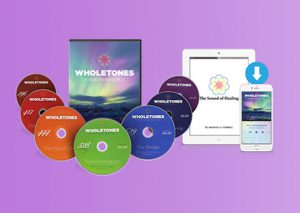 7 Disc CD set
142 page eBook "Wholetones – The Sound of Healing" by Michael S Tyrrell
Instant access to digital download
All 7 22 minute 22 second mp3 songs, which is 155.54 minutes or 2½ hours of playing time.
Price – $99.00 (Save $96.94 at the moment on the usual price of $195.94)
Package 3 – Digital Download + Physical Set + Chroma
Chroma Blu-ray/DVD (each frequency has a matching colour, the patterns and images for each song are played visually when using the Chroma DVD)
7 Disc CD set
142 page downloadable eBook "Wholetones – The Sound Of Healing" by Michael S Tyrrell
Instant access to digital download
All 7 22 minute 22 second mp3 songs, equating to 155.54 minutes or 2½ hours playing time.
Price – $149.00 (Save $145.94 at the moment on the usual price of $294.94)
Should You Buy This Product?
At the end of the day, our bodies have an innate ability to heal itself, whether by good living, healthy habits, avoiding harmful chemicals and toxins, using natural supplements, being open to energy healing or music imbued with frequencies, it is important to find what is right for you.
There are always going to be people who sit on different sides of the fence, holding on to their own opinions and thought patterns. Some people are never open to new ideas and spend their time slinging mud at those that are a little bit different to the norm. I am not one of these people. I highly recommend you at least consider Wholetones. 

Letting Go Of The Past
If you are looking at other reviews you will find some people spreading discord around Wholetones, while others have made a decision to try it and are having success and touting the benefits. Some are just anti anything alternative and like to put a damper on everything that is new and potentially a true breakthrough in health.
Are You Open-Minded?
I believe that if a person is open to alternative healing, they have a greater chance of becoming healed. After all, healing is about letting go of the past, this includes old thought patterns too, how can one heal if they don't believe that there is something out there that can actually work for them? It's about hope as well as healing.
Will Religious References Dictate Whether I Buy This Product Or Not?
I am glad that I did not allow my personal feelings on religious hype dissuade me from purchasing my copy of Wholetones. Michael Tyrell deserves my vote of approval, because I would never have experienced these feelings of peace, calm and relaxation in this simple and unobtrusive way, if he had not been persistent in his research, interpretations and formulation of Wholetones. I hope that you don't let religious fervour dissuade you either.
In The End It's What Matters To You?
At the end, it all comes down to a matter of choice, is this musical and Solfeggio combination something you would consider using, or is it something you have no interest in whatsoever?
If not, I thank you for taking the time to read my review and hope it gave you a bigger picture of Wholetones. I understand that this may not be for everyone, not everyone is on the same stage of their journey.
If you believe that your mental and physical health are worth taking care of and are willing to try something a little different, don't be shy, go now and obtain instant access to your Wholetones experience and start enjoying the benefits today.
Please Tell Us About Your Own Experience
I invite you to tell us of your experiences with it. It certainly has made an impact on me and I am happy to be one of the positive Wholetones reviews on the internet. I would welcome hearing other people's perspectives on this tool for health and well-being. I know I am happy with it, and I have no doubts you will be too.
I hope this clears up any information shortages and indecision that you may have been concerned about. Thank you for reading this review.
Warm Regards
Ange
‹ Change Your Thoughts To Change Your Life Wholetones Michael S Tyrrell: How Does It Work? ›