Harry Potter School – Design Own Homeschool Curriculum
Do you have a homeschooled child who balks at the idea of work? Why not try creating an exciting Harry Potter School? "Design own Homeschool Curriculum" might have been something that you have never thought about, or it may have been floating around in your head but always seemed out of reach, perhaps you've even Googled those very words. But now it's a real possibility for those mad Harry Potter fans.
By using your child's own interest in everything Harry Potter and building your education plans around the storyline or content of the books, it can be done. It isn't as difficult as it sounds. We only started homeschooling a couple of years ago at the time of writing this, and it's been one big learning curve for all of us because we put far too much stock in what we thought it was supposed to be, as opposed to what it should be. But we feel much more confident in our overall approach.
I'm a Carer and a Homeschooling Nanna, Yay!
My daughter, for whom I am a Carer, had decided that she'd like to bring her eldest and only child currently attending school home to be homeschooled. Miss 11 wasn't coping with the usual rigmarole of school and since moving into homeschooling, we have never looked back!. Once the other kids reach school age, they will also be homeschooled. In fact we already are doing it in a way, just not officially. Because I am their mother's Carer, it also has become part of my caring role to play a big part in homeschooling my grandchildren too, and I must admit, I am really enjoying this new addition to what I do. Up until now, my articles have not mentioned this aspect of my role because it a a new direction we are taking. We are ever evolving, and this is a welcome avenue that we are exploring.
Let's Go! Harry Potter Here We Come!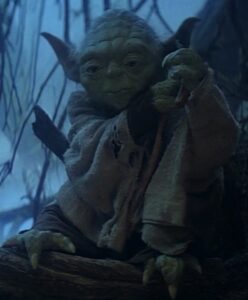 We'll get to our Harry Potter school ideas in a moment. First, there were some very important things to learn before we could find our way to what we do now. To understand our journey, I'll tell you how we got to this moment where we realised that we needed a new direction.
A very wise Jedi comes to mind when I'm thinking of a way for you to see what I mean. Think of Yoda, from Star Wars, and his famous line in the Empire Strikes Back. When training Luke Skywalker, he told him "You must unlearn what you have learned." The transition from schooling to homeschooling is very much about unlearning what you have learned before you will see significant progress.
But First, We Tried A Traditional Approach To Begin With
When we first started homeschooling, we didn't really have a clue about it, what to do, where to start, we just hoped that we would find our way. We believed we had to do everything just like a regular school. Right down to following the set curriculum that mainstream school followed and working similar hours to a school.
We bought a ready made program that had all of the lessons in it, along with all of the sample work that would need to be submitted, and followed the standard subjects of a normal school curriculum. We thought we were set. The fear of the unknown and our fear of not being good enough would be offset by the fact that everything was provided in this package, including all of the teaching requirements. We were so wrong. We had not taken into account one very important factor – the individual child.
Here's a Hot Tip – Learn what it Means to De-School!
It wasn't until Miss Grade 6 going on grade 7 started fighting us every step of the way just to get any work done, that we realised that this choice was not right for her. What we were doing was just repeating the same patterns that she was so averse to when she was attending mainstream school. We were doing everything as if she was still at school. She was doing what 'they', as in the curriculum we had purchased, wanted her to do, not what 'she' wanted to do. Needless to say, we had a lot of fails that year yet still achieved a lot of accidental learning too. Something that we took note of was the learning she had done of her own accord.
We ended up having to go through a de-schooling process and just let her go with the flow of what she preferred to be doing for a while. Since going down this path, she shone in her art and crafts and was producing a much higher quality and standard of work that we would have expected from an 11 going on 12 year old and still managed to improve on her other subjects like English and Mathematics. My advice to anyone embarking on this journey, de-school first and give yourselves time to drop all of the expectations that have been put in place by the schooling system. Stop working to a system that doesn't fit all children.
Hey, Look! We Found Our Own Version of a Harry Potter School. 
Having not had the best outcome in her first year of homeschooling, we ended up looking for something new to try, for her second year, when we stumbled across a curriculum for a younger child that piqued our interest in a big way. A lovely lady named Jessica, had produced a curriculum based around Harry Potter, that could be adapted to spread out over a whole year. As our entire family are Harry Potter fans, we were intrigued and excited by this concept, and needless to say, we jumped on the opportunity to get stuck into learning in this unique way.
Using this as a guideline, a person could in fact design your own homeschool curriculum, just as if you are attending Hogwarts School for Wizards and Witches. So we bought the digital download, got it printed out by a professional printing company so that it looked amazing and set about setting the scene to have our Miss 12 attend Hogwarts.
There are Endless Possibilities to Adapting Harry Potter to Learning Experiences
This was the first time I realised just how much 'stuff' there was to learn using a Harry Potter based theme and the ideas that flowed on from that realisation has played a huge role in our planning for her third year of homeschooling as well. Jessica had somehow managed to incorporate English, Science, The Arts, HASS (History and Social Sciences), Languages, Design and Technology, Digital Technologies etc. and associated them with topics that could be related back to Harry Potter while still learning the standard subjects expected in a school. The only subject that would need some extra work put into it was Mathematics and we also added in HPE (Health and Physical Education) and it became our Defense Against The Dark Arts class. When I say it covered the standard subjects at school, I don't mean that it followed the same subject material as the standard school curriculum, what they learn is totally up to you. For example, if the normal topic covered at school for your child's age in History is World War I and you choose to learn about castles, then learn about castles. Follow what your child is interested in.
Due to this Harry Potter course being designed for a younger child, I knew that I would have to build my plan around some more detailed information and adjust some of the work in it to suit an older child but the cogs of my imagination had started turning and hasn't stopped since. So, while for us, it wasn't as cut and dried as following Jessica's complete outline, her course sparked so many avenues of study we wanted to develop further to be appropriate for our girl's age and level of ability, while using it as a general guide with additional work. It also wasn't long before we realised we could actually do so much more with this which I will talk about in another blog post.
Enter Harry Potter!
So, how did we bring Harry Potter to life in our Homeschooling environment? We told my granddaughter that we had bought the program and she would be doing a Harry Potter themed course instead of regular school work, but she didn't know when we were going to be starting it. So it would be a surprise when she finally received the go ahead to start. She also had no idea what she would be learning, or what the subjects would be called, etc. We chose a date and then, as per suggested in the course, the next step was to set the scene for her, so we put our thinking caps on and came up with a plan.
"Happee Birthdae Harry"
We decided that we would hold a surprise Harry Potter birthday party on Harry's official birthday on July 31st, which would be the perfect opportunity for her to receive her letter to Hogwarts. She was to arrive at Hogwarts the next day where we held the feast and then start school the following day.
We couldn't do a proper big party because we had something else to attend that day, so we made it more of a late meal and my daughter made a "Happee Birthdae Harry" cake (which the icing didn't quite work but it tasted great) and we had some nibbles.
The cake was the same cake that was mentioned in the books, a large sticky chocolate cake with pink and green icing. We printed out and personalised a Letter from Hogwarts for Miss H to receive at the birthday party and my daughter pretended to be Hagrid and knocked on the front door, came in with the birthday cake apologising that she "might er sat on it a bit" and handed her the letter which she took from her pocket. Miss H was pretty excited, and was even more excited when she realised she was going to be starting in two days time. Now we just had to make sure everything was set up.
Arrival at Hogwarts for the Sorting Ceremony and the Feast
The following day, we had her "arrive" at Hogwarts and we did a sorting hat ceremony followed by the welcome feast. She dressed in her Hogwarts robes and we used the sorting quiz on the Wizarding World website, Link Here, to find out what Hogwarts House she would be placed in. We had to open a free account and then we were able to continue on to the sorting hat quiz.
We already had a cheap sorting hat from a couple of Harry Potter parties we had thrown, but looking back would have much preferred one that looked more like the proper hat even for the parties. If we had the chance we would have bought one like this one. But we had to make do with what we had because we had already ordered a lot of the learning resources we had chosen to accompany the course. Spending extra money on things we already had isn't the best financial decision. I will detail what resources we used in a separate article.
Gryffindor!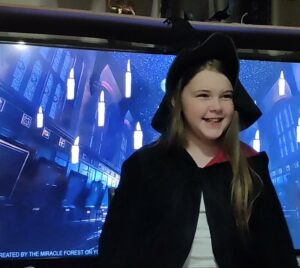 When we initially bought her Harry Potter costume for her birthday party, we picked Gryffindor as her house. So we were very curious as to what house she would be chosen for on the site. I think we all secretly hoped she would be deemed a Gryffindor to match the costume we already had, but were open to the possibility of other houses. It was so much fun.
We put her on a chair in the middle of our lounge room and found a YouTube video of a background from the Harry Potter movies. Here is an example, not the one we chose because I couldn't find the exact one, but you can choose whatever you like. My daughter asked her the questions from the site and at the end her house was declared "Gryffindor!" so that just made our evening (and we didn't need to buy a new costume either).
Then we had our lovely feast in anticipation of Miss H's first night at Hogwarts Castle ready to begin her studies the next morning, in this case a lovely roast beef with some of the trimmings that graced the tables of Hogwarts in the first Harry Potter book/movie, and some of our own favourites. Bed time came and then it was time to begin our next surprise after everyone else had gone to sleep.
Setting up for the Big Day.

 
We had ordered our resources, but not all of them had arrived in time for our program to start, so we just made do with what had arrived so far. We also had a lot of things we could use as props from our previous Harry Potter party decorations or actual toys. I think we were just as exited as Miss H while we were setting everything up for the big reveal in the morning. It took a while to get everything out and ready for the surprise. She had no idea she would be getting up in the morning to a table full of goodies and we wanted to make it just right. We also had to make sure we blocked off the entrance to our dining room so that none of the children would stumble across it before we had revealed it ourselves and spoil the surprise. Needless to say, we were pretty proud of what we had organised. Unfortunately you can't see everything in this photo because it wasn't easy to get it all in to the frame and still be able to show all of the little items that are slotted in here and there. But you get the gist of it. My next article will go into more detail about her first day at Hogwarts School of Wizardry and Witchcraft so that I can give it the attention to detail it deserves.
In Conclusion
In closing, we believe this to be the best decision we have made in our homeschooling decisions, and the fun continues as we evolve and develop new ideas from our starting point of this first year using this curriculum. Our Harry Potter School – design own homeschool curriculum just happened to end up being the best decision we have made so far and we are looking forward to designing much more around the Harry Potter theme. I'll most definitely write more about these experiences in future articles.
Thank you for reading and if you have any questions just pop them in the comments below.
Warm Regards
Ange