Interviewed by Carers Queensland – How Exciting!
Today I feel so flattered to be able to tell you that I was recently asked to be interviewed by Carers Queensland for the Winter edition of their online magazine, FIRST. How exciting that someone decided my story was worthy enough to share with others. I've never felt that I stood out from anyone else. If anything, I am more likely to be the shy person that always helps out in the kitchen at an event rather than be in amongst everything to be noticed by anyone. I love to interact with people through my writing, but in person, I'm not so confident. So to suddenly and very unexpectedly be invited to have a story written about me, had me almost in a state of shock. It left me feeling more that a little inadequate and self conscious, but both humbled and honoured as well.
I FELT PRIVILEGED BUT SUDDENLY SHY WHEN ASKED TO BE INTERVIEWED BY CARERS QUEENSLAND
Yes it was all very exciting but once I got past all that, the gravity of what that meant started to sink in.
Oh oh!
I hate being the center of attention and now, suddenly, I was going to be in a magazine where a whole bunch of people were going to see me. I mean, really see me. It would be like being placed under a magnifying glass, maybe not in reality, but in my own self-conscious mind.
All manner of concerns immediately started milling around in my head. What would I say? Would I have anything important to talk about? What if I was boring and they didn't like my story after all? These were the thoughts running through my head because suddenly I was thought to be interesting in some way. What if I was a disappointment? Then I said to myself "hold on a minute, they were interested in something about me, otherwise they wouldn't have asked for an interview, so they will probably know what they wanted to ask to get that particular information from me."
Worries, Worries, and More Worries!
Then I started to worry that I would not be able to think on my feet to answer their questions and I might forget to mention something that I felt was important. I really wanted to be able to help other Carers but was worried that when the time came that I would not be able to impart the particular points of interest that I felt were the most vital pieces of information from my story. I believe that some of the ways I have dealt with things over the years, or how I have changed my way of thinking might give other Carers a better feeling about their own situations. So the last thing I wanted to do was freeze up at the very moment that I could be sharing that information. But I also realised that if I did happen to forget some pieces of information, hopefully some of the unpaid Carers who happen to read the article, might come along to my website and get that information here.
They Couldn't Possibly Want My Whole Life Story, Where Would They Fit It?
Another thing I was concerned about was how on Earth could they do an interview on nearly a whole lifetime of being a Carer and fit it all on one page of a magazine? There would be so much to say, so much I would want to tell them about, yet I imagined they would not be wanting my whole life story. Merely a snippet would probably suffice and more likely to be what they were looking for. Which left me pondering what they might ask me to get the gist of my life in the shortest possible way. What would they want to know about me?
Now The Question Arose Of What To Tell Them
It was my understanding from the first contact that the interview would be relatively short and by phone due to the distance between myself and the interviewer/writer, which meant they probably already knew what they were going to get me to talk about. The problem was, I didn't, and I had no idea what they might find interesting enough about me to include in their story. I am also not very adept at answering questions just off the top of my head without getting some time to think about a response, which left me panicking a little about not having the answer that I would prefer to reply with if I didn't have time to think about the question.
I Chose To Prepare Myself In Advance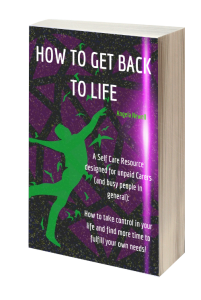 I decided it would be best to try to write down a few things beforehand so that I could remind myself of some of the key moments in my life that lead me to be where I am today. Luckily, I had only just recently finished writing my book, How To Get Back To Life, and had already written an "About The Author" section inside, so I was happy that I already had much of the information at the ready.
It was just a matter of opening the stored copy of my book and glossing over it to grab the main points and then adding a few that I believed might be useful. Of course I would have to elaborate on some of the points a little, but now I wasn't feeling quite so nervous anymore because I had prepared myself at least a little bit in advance.
Now It Was Time For The Interview
The interview in the end turned out to be quite easy. Which was probably a combination of my information gathering exercise and their writer who already had the questions in mind for what answers she was aiming for. When the interview first began, she told me it would take about 15 minutes and if it went longer than that she would have to call back because she was expected at a meeting.
I was surprised when 45 minutes later we were still chatting. She was so intrigued and engaged in the conversation that she let the interview continue as long as was necessary. Which was good for me because everything was flowing well and I did not feel that it would easily be recaptured if we had to stop and come back to it. I think my positive attitude had something to do with it too. I was probably quite animated when talking about my plans and goals for changing my life. I hope she did not get into trouble for being late or not attending the meeting though. I believe I managed to get across the majority, if not all, of what I felt they might be most interested in from the perspective of the Carers who would be reading it.
So How Did Little Old Me Become Invited To Be Interviewed In The First Place?
While I am on the subject I would like to take this opportunity to urge you to get in touch with Carers Queensland, or the equivalent organisation in your own locality and get to know what services they offer in your area. I am so grateful to being able to access the help at the time I needed it the most. So now you may be wondering how it came about that I was invited to be interviewed. After all, it's not like I am well known to the particular region of Carers Queensland who ended up asking me for an interview. I have certainly used the services of Carers Queensland in my smaller local region so may be a little known by them, but that would be as far as my reach goes at this point. I have accessed a counselor and a support group, taken advantage of their assistance with a small loan that I needed, and been to a couple of events and functions for Carers. But I wouldn't really expect that they would all be overly familiar with me or what I have been doing with my life. So it was quite fascinating in terms of the sequence of events that took place leading up to being asked for an interview.
Yes Please! Sign Me Up!
I had originally responded to a general email from Carers Queensland issued to all Carers in my locality. They were seeking expressions of interest in doing a course that they were hoping to receive funding for so they could, in turn, have the numbers to run it. At the time, I was trying to see if I could gain some new skills so that one day, if my daughter recovered enough, or was able to manage herself better, to be able to live a little more independently, I could perhaps attempt to get some casual or part time work. I had high hopes of that happening in the nearer future than later. I was placed on their list of interested people and it would be a while before I would find out if they were going to be running it.
At first they had to postpone the planned starting date for the course by about six months but were still meaning to offer it. So I sat back to wait again for more information.
I was to be disappointed!
Some time passed and I eventually received an email letting me know that unfortunately the course would not be run after all. They had missed out on the funding they were hoping to receive at this particular time. I was a bit disappointed but I have been keeping myself busy anyway in an effort to get myself out of this financial rut that being an unpaid Carer has left me in. Carers are certainly kept trapped in a bad financial situation which was one thing I was desperately trying to change. It's one thing I'm always trying to change in fact. Just because we are unpaid Carers, should not mean that we are meant to be living below the poverty line, but that is in fact what we are doing.
With work prospects so poor because of the varied times of day or night that I am required in my Caring role, there leaves very little methods for Carers like me to try to earn any additional income. I have been endeavouring to change that in my life and I hope to help others see the possibilities as well so that they do not remain fenced in. If money doesn't land in our pockets because our options are slim, we need to find a way to reach out and bring some to us.
Alas! It Was Not Meant To Be & Way Out Of Reach For Carers
I emailed the man, Peter, who had let me know about the course not running now to thank him for telling me. He was kind enough to let the interested parties know about the organisations who had received funding to run a similar course, in case any of the Carers who still wanted to do it were able to go elsewhere to access the course. But when I checked them out, the course time frame and expected finish date were different than the one Carers Queensland were planning to offer. Originally what drew me to the course in the first place was the fact that Carers Queensland were going to run the course for only one day per week and over a year, and had the particular needs of Carers in mind when considering how they would run it. This meant that the course was within my capabilities to participate in because I only needed to be away from my dependent for one day every week.
The other organisations were offering it to anyone, whether they were a Carer or not, and had the course running for 3 months only, and it was a 3 day per week course. This would work well for those people who were hoping to get it over and done with in a shorter amount of time so they could get themselves into the workforce more quickly. However this meant that it would put the course out of reach for many of the Carers who were interested due to their limited times they could get away from their charges for the length of time required each week.
I'll Just Keep Plodding Along With My Own Goals
I thanked Peter for trying to accommodate Carers and said I'll just keep working on building my online business to bridge the gap between Carer payments and the real world. I explained it wouldn't happen overnight but in the long term it will be worth the effort and the time spent. After this I received another email from him telling me that I reminded him of a chapter he was reading in a book just last night about setting up your own work and asked if I had read it.
It so happened that I had just ordered the book myself after hearing about it through an acquaintance, and received it that very day. My 20 month old granddaughter had sneakily taken it from my chair, sat herself down on her own little couch and started to open it and read it. I took a photo it was so cute.
I thought Peter would be pleased to know that I'd bought the book so I emailed him and told him about how fitting it was that he should be bringing it up and how I had become interested in ordering that book. I mentioned that I had done a home study course on financial education and read a few books that helped me see the value in starting up an online business. I told him that after searching for a while I found a training course that taught me how to do everything from scratch, and simply, in terms of beginning at the building a website stage and then teaching you how to set it up, write content, use keywords to attract people to your site and also how to earn money from it.
I explained that I hadn't started reading the book yet because I was busy writing my own eBook, which was just about to be finalised and published. I would make a start on reading it as soon as I had published my eBook. It had been hard enough finding snippets of time to write the eBook as it was, so everything had taken a back seat until I had finished it, including my actual blogging. I have since restarted to blog and have now read the book that he was so passionate about too. I loved the book, which is very easy to read and so full of useful tips that I plan to review it on this site in the near future, so that others may be able to learn how to help themselves, and set their own financial futures up properly.
It was at this point that I received an accidental email response from him that was meant for his manager. He was trying to forward the email I sent to him on to his manager because he decided that my story might go well in their online magazine but sent it to me instead. In this way I received an immediate heads up as to his plans, so the surprise was ruined, but I didn't mind. He realised what he'd done straight away and sent me another email to explain. Then asked me if I would consider being interviewed for their publication, "FIRST", because I had such positive things happening in my life and it was just the kind of story they liked to include. After saying yes, my details were passed on to their marketing people and I was contacted by a lovely lady named Rosa and we scheduled the interview. The result of which can be found at the following web address.
https://carersqld.com.au/wp-content/uploads/FIRST_Winter2018.pdf
I really hope you will click on the above link and read the article and see that we are not trapped in our circumstances regardless of how futile everything seems. If we are willing to look at other alternatives, many times the solution to our problems will present itself.
In my book I talk about how you can learn to change around how you view your situation, how you manage your time, the expectations that you place on yourself or those your dependent places on you, and yes, even your financial situation.
After being interviewed by Carers Queensland, I realised that by sharing my story with other unpaid Carers I might somehow leave my mark on this world amongst my own peers and quite possibly be an inspiration to some. It made me feel really proud of my achievements and believe in myself even more.
Will my interview wake up a sleeping giant within you that will take you to places you never expected to go? Or stir you into motion on reinventing yourself and building your future? How will you change your life? What have you realised from reading my interview? Has it opened your eyes to new possibilities? Please share in the comments below or on my Facebook page https://www.facebook.com/carersloft/. Let's work some magic and get you on a better path. Thank you for reading this article and my interview and I wish you all the best in your future plans.
Warm Wishes
Ange